RELEASE DAY REVIEW: Rushing Love by Meg Bawden

Author Name: Meg Bawden
Book Name: Rushing Love
Series: States of Love
Page/Word Count: 93 pages, 32K words
Categories: Contemporary, Gay Romance
Release Date: February 22, 2017
Publisher: Dreamspinner Press
Buy Links:





Blurb: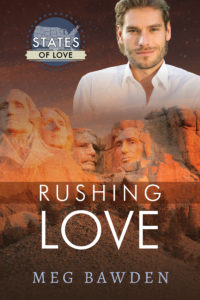 After a devastating breakup with the man he thought he'd spend his life with, Flynn Webb takes a vacation to a South Dakota dude ranch. It's something completely different from anything he's done before, and it helps that it's as far away from his ex as possible. Trapped in his own depressive thoughts, Flynn is surprised to meet Grayson Harland. Not only is Grayson a sexy cowboy—one fifteen years younger—but he's the most charming man Flynn has ever met.
Flynn doesn't have much experience with being seduced, and he has even less with guys like Grayson taking an interest in him—and Grayson is definitely interested. What begins as a fling while visiting iconic South Dakota sights soon develops the potential for much more. But Flynn is afraid that falling in love again so soon—and with a man so much younger—will lead only to another catastrophic heartbreak. Luckily for them both, Grayson isn't giving up without a fight.
States of Love: Stories of romance that span every corner of the United States.

3✨s – So, insta-love. Some readers love it, especially when backed up with story and good writing. Some readers hate it-just nope, no thanks.
I believe in it, the idea of love at first sight hits me straight in my super romantic sappy heart. Every time.
This book has insta-love in spades. Flynn as the older MC is recently heartbroken, not ready for anything new. When he arrives at Harland Brothers Dude Ranch the very much younger Grayson is immediately all in. His exuberance is heartwarming, if a bit over the top.
The issues they face seem almost inconsequential. A bit forced. Definitely took away from the story for me. Flynn was a bit too flighty. Sean and JJ were all over the place in their support or lack thereof. Grayson's maturity was questionable, but he also came across as the most honest.
At times too repetitive- got it Flynn, Sean's your bestie.
South Dakota was an amazing backdrop, was so alive, becoming a character itself.
This is a sweet story, definitely rushed but adorable.
Author Bio: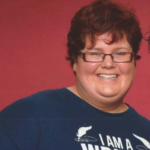 Meg Bawden was born and raised in North Queensland, Australia. She's loved stories since before she can remember and has always enjoyed creating characters of her own, even if it did begin with drawing faces on toilet rolls and giving them names. Writing has always been a passion of hers and she's loved the M/M genre since 2004, the first book she read being Rainbow Boys by Alex Sanchez. Writing M/M since 2007, Meg has never had the confidence to attempt publishing her own stories, but in 2015, she decided that it was all about to change thanks to the amazing friends she's made in the M/M genre and their support and encouragement. So watch out, world, Meg Bawden is coming out to have some fun!
Where to find Meg Bawden:




Other books by Meg Bawden:
[amazon_link asins='B01EWDJC54,B017A25820,B01HUJFFE4,B01BSTDLWA,B01MR1SKBP' template='ProductCarousel' store='jegbo07-20′ marketplace='US' link_id='456dd8b1-f908-11e6-b6cc-8784cf4db58f']