RELEASE DAY REVIEW: Striking Sparks by Ari McKay

Author Name: Ari McKay
Book Name: Striking Sparks
Series: Dreamspun Desires
Page/Word Count: 214 pages, 55K words
Categories: Contemporary, MM Romance
Release Date: December 15, 2016
Publisher: Dreamspinner Press
Buy Links: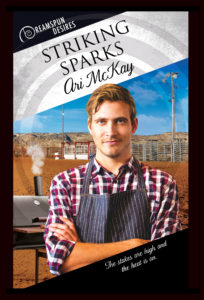 Blurb:
The stakes are high and the heat is on.
Beau Walker, owner of the Barbecue Shack, needs the help of Jake Parnell, his one-time rival and secret crush, in a televised barbecue competition. Beau is a proud man, but the stakes are high, and smart, sexy Jake is his only hope, even if being around Jake reawakens the attraction he's fought for years.
Jake left his hometown, determined to build a life somewhere his sexuality wouldn't hurt his family's restaurant business—and far away from hunky, obstinate Beau Walker. Then his twin, Josh, is killed, and Jake returns to support his brother's wife and children. Despite his reservations, he agrees to go head-to-head against Beau on national television. Between stress and grief, as well as pride and determination, only one thing is certain—the heat between Beau and Jake extends well beyond the kitchen.

3✨s – This story was cute, completely predictable with a strong old-school Harlequin romance feel.
Both of the characters are FULL O'ANGST, yet I really couldn't see why. Neither came across as if they had moved far past their last interaction with each other over ten years prior to the beginning of this book. The constant conflict between them seemed overblown.
Unrequited kind of secret (only in their own minds!) love was felt by both men. Never quite got the why, though there were hints given.
The book never went all in for the foodie reader in me either. Though I enjoyed the premise of a food competition, the story used it as a vehicle to further the angst instead of better developing either of their characters.
A quick read with a sweet HEA.

Author Bio:
Ari McKay is the professional pseudonym for Arionrhod and McKay, who have been writing together for over a decade. Their collaborations encompass a wide variety of romance genres, including contemporary, fantasy, science fiction, gothic, and action/adventure. Their work includes the Blood Bathory series of paranormal novels, the Herc's Mercs series, as well as two historical Westerns: Heart of Stone and Finding Forgiveness. When not writing, they can often be found scheming over costume designs or binge watching TV shows together.
Arionrhod is a systems engineer by day who is eagerly looking forward to (hopefully) becoming a full time writer in the not-too-distant future. Now that she is an empty-nester, she has turned her attentions to finding the perfect piece of land to build a fortress in preparation for the zombie apocalypse, and baking (and eating) far too many cakes.
McKay is an English teacher who has been writing for one reason or another most of her life. She also enjoys knitting, reading, cooking, and playing video games. She has been known to knit in public. Given she has the survival skills of a gnat, she's relying on Arionrhod to help her survive the zombie apocalypse.
Where to find the author: