RELEASE DAY REVIEW: Talking in Code by Ariel Tachna

Author Name: Ariel Tachna
Book Name: Talking in Code
Page/Word Count: 256 pages, 95K words
Categories: Gay Romance, Contemporary Romance, Ménage/Poly Romance
Release Date: March 6, 2017
Publisher: Dreamspinner Press
Cover: Paul Richmond
Buy Links:





Blurb: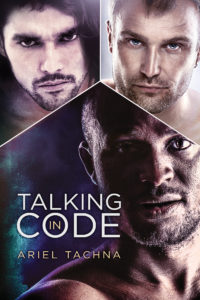 Some things crumble under pressure. Others are tempered by it instead. For three former soldiers, a tragedy might be the catalyst that binds them together—stronger than ever.
Richard Horn and Timothy Davenport met in the SEALs twenty years ago and have been lovers ever since. Now running their own paramilitary organization, Strike Force Omega, they work in the shadows to protect their country and its people. When Tim falls for Eric Newton, a deadly sniper and strategist on their team, Richard accepts that Tim's heart is big enough for two men. He respects, admires, and even desires Eric enough to accept him into their relationship—and their bed—but he's never been fully a part of what Eric and Tim share.
Then Eric is captured by terrorists and Tim is gravely injured in an op gone wrong, bringing Richard's world crashing down around his ears. Even if he gets his men out alive, Eric must face the aftermath of months of physical and psychological torture—and without Tim to lean on, Eric's PTSD is tearing him apart. Richard has to figure out the third leg of their triangle fast, or Tim won't have a life to come back to.

4✨s – Timothy Davenport and Richard Horn met in the SEALs and have been lovers for twenty years. When Timothy "Dav" met Eric, there was no denying the attraction, but he wouldn't consider asking Eric to be a part of his life unless his partner Richard could accept Eric as well. The three build their lives together and work well with one another even though they are not out to most of their co-workers. Eric and Tim have always shared a special bond and Richard has been content to let them have that, but when Eric is captured by terrorists and Dav is seriously wounded on a mission, Richard has to step up to be there for both men as they usually are for each other.
Eric was held captive and tortured for months before being rescued by the special ops team that he works with. He's been beaten, starved and tortured in so many ways that he is broken when he's finally rescued. Dav is always the one there to help put him back together, but Dav's been gravely injured so it's just him and Richard.
Richard and Eric finally make it to the hospital where Dav is recovering and find him in a drug induced coma. He's on a ventilator and the doctors need to keep him in a coma until they can remove the vent.
Richard and Eric are staying in a house on base and for the first several days they really mess up. They're not used to not having Dav there. Dav knows that Eric needs shaved when he comes back from a mission, but Richard doesn't. Thankfully, Eric's team is around and his closest friend Victoria Amato sits both men down separately and tells them that they're screwing up. I love Amato. She doesn't hold any punches, she's fiercely protective of Eric and completely accepting of the three men's relationship. It's a beautiful thing to read when Richard and Eric finally start opening up to one another. Although they've all been together for years, it was like watching them start a new relationship.
When Dav is finally brought out of the coma and awakes, he can tell that something is different between Richard and Eric. It takes him some time with both men to figure out what is different, but it is wonderful when he realizes that the two men he loves most in the world have finally found each other too.
I have a special fondness for stories with three men in a relationship. It's one of my favorite genres, but it has to be written well to really make it feel real. Talking In Code is very well written. The ups and downs between the men feel real, the love between them is beautiful and I love that the author let us see the bond between Richard and Eric bloom. There's some suspense thrown in that keeps the plot moving and it's definitely enjoyable.
I'm going to be on the lookout for more books from this author.

Author Bio: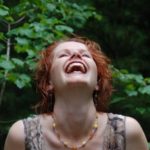 Real characters, raw emotion, an authentic journey to love
When Ariel Tachna was twelve years old, she discovered two things: the French language and romance novels. Those two loves have defined her ever since. By the time she finished high school, she'd written four novels, none of which anyone would want to read now, featuring a young woman who was—you guessed it—bilingual. That girl was everything Ariel wanted to be at age twelve and wasn't.
She now lives on the outskirts of Houston with her husband (who also speaks French), her kids (who understand French even when they're too lazy to speak it back), and their two dogs (who steadfastly refuse to answer any French commands).
Where to find Ariel Tachna:





Other books by Ariel Tachna:
[amazon_link asins='B01IYX5TXW,B01C91QD1W,B01DGYLXFC,B00P2KL2HS,B01IDRXYGS' template='ProductCarousel' store='jegbo07-20′ marketplace='US' link_id='28a601c5-0295-11e7-913c-934afddd67db']