RELEASE DAY REVIEW: The Real Thing by B.G. Thomas

Author Name: B.G. Thomas
Book Name: The Real Thing
Page/Word Count: 52 pages, 15K words
Categories: Contemporary Romance, Gay Romance, Cowboys & Westerns
Release Date: March 1, 2017
Publisher: Dreamspinner Press
Buy Links:





Blurb: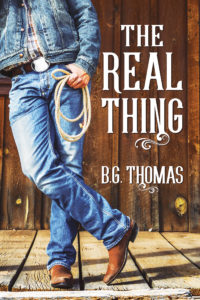 Bryan Mills has fantasized about cowboys all his life. Real cowboys, that is. He even dresses in what his roommate calls "cowboy drag" when he visits his favorite bar, in the hope of attracting the attentions of a genuine cowboy. But all he usually finds are posers and guys his own age.
Then one night, to his surprise, Curtis Hansen buys him a beer, and Bryan has no doubt this is the real thing. Curtis is a rugged, gorgeous man who is every bit a cowboy. He even owns his own ranch. What follows is about the most amazing night of Bryan's young life.
But can they move beyond a night of incredible sex when Bryan admits to Curtis that the only horse he's ever ridden was a birthday party pony? And that he's nothing but a poser himself? Maybe, just maybe, Curtis can find the real cowboy inside Bryan, and they can ride off into the sunset together!
First Edition published as The Real Thing in Riding Double by Dreamspinner Press, 2011.

3✨s – This was a super fast read. Bryan is a sweet ball of energy, a great contrast to his roommate Thomas. Also now I want to read Thomas' story!
Being in Bryan's mind is a bit exhausting, he wants to be with a real cowboy, but isn't sure he can handle it.
Once he meets Curtis- the real thing- he is sure he will be found out as a wannabe cowboy pretender. The more they get to know each other the more Bryan wants to be a cowboy. A real cowboy that would be a perfect match for Curtis.
I thought Bryan was adorable and brought a sweetness out in Curtis, one that gives them something to build upon. A very sexy romp.
Author Bio: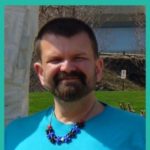 B.G. Thomas lives in Kansas City with his husband of more than a decade and half, and that marriage has been legal since 2014! They share their home with their fabulous dogs, Sarah Jane and Oliver. He is lucky enough to have a lovely daughter as well as many extraordinary friends.
B.G. loves romance, comedies, fantasy, science fiction and even horror—as far as he is concerned, as long as the stories are character driven and entertaining, it doesn't matter the genre. Since he's gone conventions since he was fourteen years old, he's been lucky enough to meet many of his favorite writers, many of whom inspired him to pursue his own writing dreams.
Excited about the growing male/male romance market, he decided to begin writing for the first time in years. Gay men are what he knows best, after all. He submitted his first story in years and was thrilled when it was accepted in only four days, and since then has had over thirty short stories, novellas and novels published.
"Leap, and the net will appear" is his personal philosophy and his message to all. "It is never too late," he states. "Pursue your dreams. They will come true!"
Where to find B.G. Thomas:




Other books by B.G. Thomas:
[amazon_link asins='B01N10ZCIP,B01GMDKIQ4,B004TXOM4O,B00R58C83M,B00H0QU0SY' template='ProductCarousel' store='jegbo07-20′ marketplace='US' link_id='d65a579b-fe8c-11e6-bdf8-cbeb07c727a5′]