RELEASE DAY REVIEW: The Remaking of Corbin Wale by Roan Parish

Author: Roan Parrish
Book: The Remaking of Corbin Wale
Series: 2017 Holiday Charity Bundle
Page/Word Count: 237 pages, 59K words
Categories: Gay Romance, Fantasy/Paranormal/Sci-Fi
Release Date: November 27, 2017
Publisher: Riptide Publishing
Cover Artist: Natasha Snow Designs
Buy Links:





Blurb: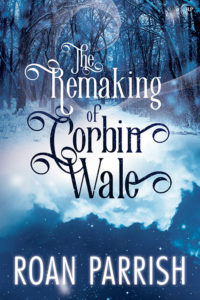 Last month, Alex Barrow's whole life imploded—partner, home, job, all gone in forty-eight hours. But sometimes when everything falls apart, better things appear almost like magic. Now, he's back in his Michigan hometown, finally opening the bakery he's always dreamed of. But the pleasure of opening day is nothing compared to the lonely and beautiful man who bewitches Alex before he even orders.
Corbin Wale is a weirdo. At least, that's what he's heard his whole life. He knows he's often in a fantasy world, but the things he feels are very real. And so is the reason why he can never, ever be with Alex Barrow. Even if Alex is everything he's always fantasized about. Even if maybe, just maybe, Corbin is Alex's fantasy too.
When Corbin begins working at the bakery, he and Alex can't deny their connection any longer. As the holiday season works its magic, Alex yearns for the man who seems out of reach. But to be with Alex, Corbin will have to challenge every truth he's ever known. If his holiday risk pays off, two men from different worlds will get the love they've always longed for.
20% of all proceeds from this title will be donated to the Russian LGBT Network.
Each year, Riptide Publishing releases a holiday collection in support of an LGBTQ charity. Twenty percent of the proceeds from this year's collection will be donated to the Russian LGBT Network.
The Russian LGBT network was founded in April 2006. It is an interregional, non-governmental human rights organization that promotes equal rights and respect for human dignity, regardless of sexual orientation and gender identity. They unite and develop regional initiatives, advocacy groups (at both national and international levels), and provide social and legal services.
To learn more about this charity or to donate directly, please visit their website: https://lgbtnet.org/en.
This collection would not be possible without the talent and generosity of its authors, who have brought us the following holiday stories:

4✨s – Roan Parrish has created wonderfully unique characters for this holiday tale and immersed us in small-town Michigan, surrounded by the sights and scents of Alex's busy bakery. I was starving through most of this book! Alex is a comforter, wanting to soothe the troubles and worries of those he cares about, protective, non-judgmental and strongly principled. Corbin is very much the opposite, rather fey, living mostly inside his own mind, as the real world has left him isolated, bruised and battered by expectations he's never learned to conform to. It was hard to distinguish the greater influences on his beliefs and actions; whether he might have had autism, his unconventional upbringing, plus the casual cruelty inflicted by children and adults toward someone who appears too different.
There's a very mystical quality to the narrative, particularly where Corbin is concerned. He was, naturally, influenced by his aunts, who reminded me of new-age hippies, or Wiccans or something. I had trouble connecting with Corbin, as some facets of his character were too esoteric for me to take seriously. I was able to believe in Alex taking him seriously, accepting, without always understanding, Corbin's certainties. Having both POV's helped with my comprehension. There were also enough more mundane and ordinary scenes to keep it from feeling too far out for me. Alex's mom, her boyfriend Lou, his son Orin, and especially Gareth, Alex's best friend, were marvelous secondary figures in the storyline. I really want to know what will happen with Gareth, about his camping trip and what happened with Orin. Another story to come Roan? I can't leave out mention of the sex scenes, not a lot of them but most occurring without Alex or Corbin even touching each other. Hot, hot, hot!
The entire story is suffused with the best qualities of the season; Alex's thoughtful, generous nature and the faith in miracles emanating from Corbin. I really appreciated the focus on Chanukah instead of Christmas, a less-commonly depicted holiday, without any heavy religious reference. I'm atheist, but I enjoy the spirit of a season dedicated to sharing and giving. In that spirit, purchasing this volume, or the whole Riptide Charity Bundle, benefits the Russian LGBT Network, working to rescue Russian and Chechen victims of persecution and violence. Yet another reason to recommend reading Alex and Corbin's story, besides the great enjoyment it provides.
About Roan Parish:
Roan Parrish lives in Philadelphia where she is gradually attempting to write love stories in every genre.
When not writing, she can usually be found cutting her friends' hair, meandering through whatever city she's in while listening to torch songs and melodic death metal, or cooking overly elaborate meals. She loves bonfires, winter beaches, minor chord harmonies, and self-tattooing. One time she may or may not have baked a six-layer chocolate cake and then thrown it out the window in a fit of pique.
She is represented by Courtney Miller-Callihan of Handspun Literary Agency.
Where to find Roan Parish:








Contest:
To celebrate the release of The Remaking of Corbin Wale, one lucky winner will receive a $20 Amazon gift card! Leave a comment with your contact info to enter the contest. Entries close at midnight, Eastern time, on December 2, 2017. Contest is NOT restricted to U.S. entries. Thanks for following the tour, and don't forget to leave your contact info!