RELEASE DAY REVIEW: The Unlikely Prospect by Lex Chase

Author Name: Lex Chase
Book Name: The Unlikely Prospect
Series: States of Love
Page/Word Count: 126 pages, 40K words
Categories: MM Romance, Contemporary
Release Date: December 7, 2016
Buy Links:






Blurb: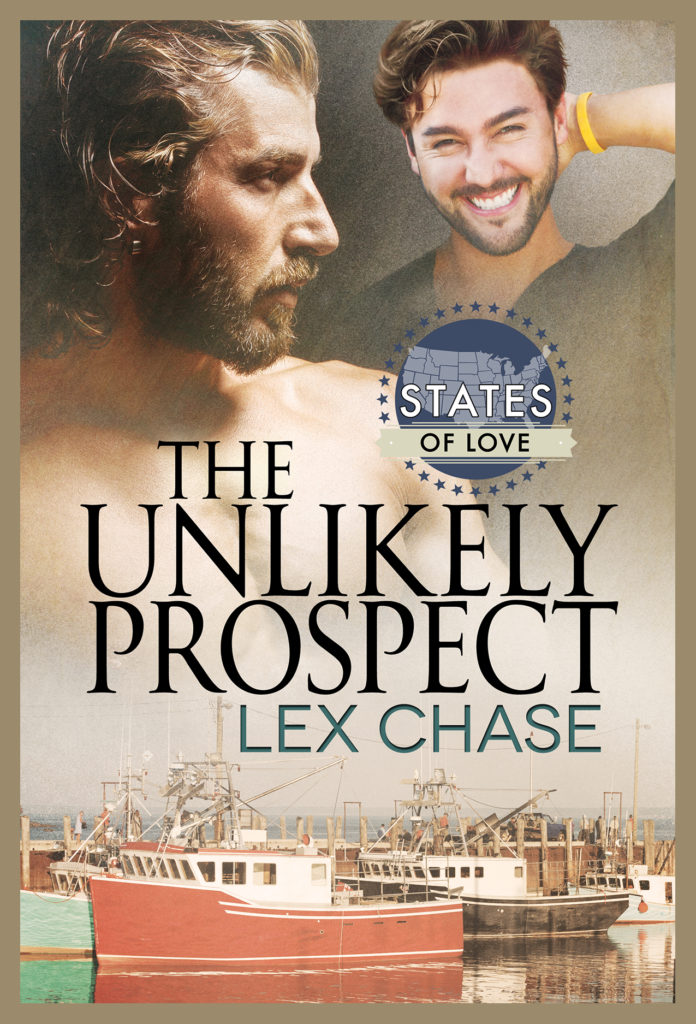 In Prospect Harbor, Maine, lobsterman Harper Cook has always loved the sea. He and his two brothers work the harbor waters, in a fishing village of one thousand where everybody knows everybody else's business and nobody wants to be different.
When it's time for the annual Men of Maine pinup calendar, Harper's brothers eagerly volunteer him. Harper isn't thrilled to bare it all to raise money for an elementary school playground—until he meets out-and-proud Los Angeles out-a-statah Sean Blackburn: the highly available first-grade teacher with Hollywood heartthrob looks.
Harper has no desire to ever stand out from the crowd, but Sean persists and earns Harper's friendship. Through Sean, Harper opens up to new possibilities. Things get steamy, but Harper still protects his heart. Though the right pressure in the right place might crack even a loner lobsterman out of his shell.
States of Love: Stories of romance that span every corner of the United States.

3.5✨s – This was a sweet and funny loooooow angst romance, exactly what I needed!
Harper-oh Harper. His awkward just jumps off the page. This is my first read by Lex Chase, so I can't say if the choppy writing style is her norm or if it is affected to further Harper's persona, but it works for me. It kept me in the story and front and center in the somewhat uncomfortable in his skin world that is Harper's mind. I grinned during the entire book.
The background of this small fishing town was as much a character as Harper or Sean. Not sure I'd like to live there but it was a fun visit.
Opening themselves up to love and hope made for a tender love story, with just a dash of heat.
My only complaint- I wanted more! More family, more interaction with the town, I love stories that give it all. Such a wonderful introduction to not only the Cook brothers, but their families and this teeny tiny Maine town. 126 pages was just enough to leave me wishing for more.

4✨s – This is an incredibly sweet story, I'm not sure why I was expecting angst and bad blood, just by the blurb but it was the complete opposite.
Harper was a lobster fisherman with his brothers, Joe and Danny; just like their dad before them and granddad before him and great-grandad before him… I was totally picturing all the guys from The Deadliest Catch; how rugged and hard and manly they were, except they got to go home at the end of the day instead of being out for months and months at a time. I liked that part! This story is set in his POV and although I typically like hearing from both sides, POV, it didn't take anything away from Sean or how he felt or anything, I liked that.
Harper was lonely though, being from a small fishing town where he'd known everybody his whole life and everyone knew him; he was a tough nut to crack. There wasn't a lot of dating opportunities, being a gay man from a small town. Enter…. Sean…..
Sean is from California, wanting a slower pace lifestyle and getting over being burned by his ex, which we only hear about in passing, he never shows up or causes trouble or anything like that; I was glad about that too, sometimes you need an angsty read and sometimes the story is just perfect the way it is. That's how this one was for me. Sean had himself a little crush on Harper but knew he was shy and inexperienced. He took his time with him, he was patient and understanding and just the right amount of pushy so that he'd experience new things and do things; hence the naked calendar for a fund raiser and quiet, shy, kept to himself, Harper was Mr. December himself.
I loved the way Sean was with Harper, like I said, patient, understanding, endlessly sweet but man, that man could get dirty and that was half the fun. Seeing him open Harper up to new things and trying new things….especially, sexual things…. It was hot. Period.
I also loved that Harpers brothers were annoying and mouthy and manipulating and hard on their brother, but it all came from love and they just wanted to see their brother happy. It was a great story, not too long, and like I said, low to no angst. It all worked out, really well and the ending was really sweet. We got to see a new side to Harper, a more confident, happy one who asks for what he wanted…and he got the boy in the end 
I received a copy of this book from the publisher with the promise of a volunteered, honest review…

Author Bio:
Lex Chase once heard Stephen King say in a commercial, "We're all going to die, I'm just trying to make it a little more interesting." Now she's on a mission to make the world a hell of a lot more interesting. Weaving tales of sweeping cinematic adventure—depending on how she feels that day—Lex sprinkles in high-speed chases, shower scenes, and more explosions than a Hollywood blockbuster.
Her pride is in telling stories of men who kiss as much as they kick ass. If you're going to march into the depths of hell, it better be beside the one you love. Lex is a pop culture diva, her DVR is constantly backlogged, she has intense emotions about Hannibal's Hannigram, and she unapologetically loved the ending of Lost. She wouldn't last five minutes without technology in the event of the apocalypse and has nightmares about refusing to leave her cats behind.
Where to find the author: