RELEASE DAY REVIEW: Two Cowboys and a Baby by BA Tortuga

Author Name: BA Tortuga
Book Name: Two Cowboys and a Baby
Series: Dreamspun Desires
Page/Word Count: 220 pages, 50K words
Categories: Gay Romance, Cowboys & Westerns
Release Date: March 15, 2017
Publisher: Dreamspinner Press
Cover: Bree Archer
Buy Links:





Blurb: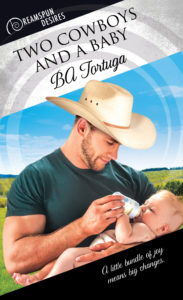 A little bundle of joy means big changes.
Hoss McMasters has a working ranch, a bull riding career, a nosy momma, and a best friend he's been in love with since he can remember. He's a busy, happy cowboy, living the good life.
Then one morning he discovers a baby on his doorstep.
Well, Hoss does what any reasonable man would do—he calls his momma and his buddy, Sheriff Pooter, and they head to the clinic to see if Doc knows of any suddenly not-so-pregnant girls.
In the meantime, Hoss and his best friend, Bradley, have their hands full trying to care for an infant, run a ranch, and deal with the sudden confession that Bradley doesn't hate Hoss for coming out to him in high school. In fact, Bradley's been trying to catch Hoss's attention for damn near a decade.

3.5✨s – When a baby is left on the doorstep of Hoss McMasters ranch, he has no choice but to take care of her for a few days. Hoss enlists his best friend, Bradley, who lives in a trailer on Hoss's land, to help him take care of the baby.
This is the first book I've read by BA Tortuga and I enjoyed it. I must admit, reading this book was like reading a rom-com. I had a very difficult time getting past the "cowboy speak" which is what I dubbed their dialect. Words like "cain't" and "reckon" are just not in my vocabulary, but the story was good. There were a few plot twists that bordered on the level of a soap opera, but the charming MC's made that okay.
Without giving too much of the plot away, I was very disappointed that Hoss and Bradley had to remain mostly closeted throughout the entire book. It's 2017 and marriage is legal in every state, including Texas, and it still burns me up when I read books with characters who feel they have to hide the fact that they're gay.
This book did make me chuckle and it's a sweet story

Author Bio: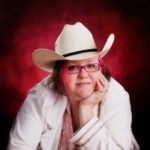 Texan to the bone and an unrepentant Daddy's Girl, BA spends her days with her basset hounds, getting tattooed, texting her sisters, and eating Mexican food. When she's not doing that, she's writing. She spends her days off watching rodeo, knitting and surfing Pinterest in the name of research. BA's personal saviors include her wife, Julia, her best friend, Sean, and coffee. Lots of good coffee. Y'all know that song, The Happiest Girl in the Whole USA? That's me, down to the bone.
Having written everything from fist-fighting rednecks to hard-core cowboys to werewolves, BA does her damnedest to tell the stories of her heart, which was raised in Northeast Texas, but has heard the call of the high desert and now lives the good life in the Sandias. With books ranging from hard-hitting GLBT romance, to fiery menages, to the most traditional of love stories, BA refuses to be pigeon-holed by anyone but the voices in her head.
Where to find BA Tortuga:







Other books by BA Tortuga:
[amazon_link asins='B06XHHWDZV,B01G5FOUU4,B015WFNSZ6,B01KKG46YO,B00KRVSCAC,B06WVC1PP5,B06X9KSP8S,B01N2385NX' template='ProductCarousel' store='jegbo07-20′ marketplace='US' link_id='d9be87ae-09c1-11e7-bf85-4d4d8e635dac']