RELEASE DAY REVIEW: Wolfmanny by Julia Talbot

Author Name: Julia Talbot
Book Name: Wolfmanny
Page/Word Count: 216 pages, 63K words
Categories: Gay Romance, Shifter Romance, Ménage/Poly Romance, Sweet Romance, Family Drama
Release Date: February 6, 2017
Publisher: Dreamspinner Press
Buy Links:





Blurb: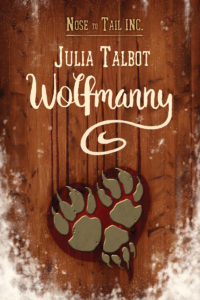 Three hot werewolves, sexual tension thick enough to cut with a knife, an impending Colorado winter, and a rambunctious pack of werewolf pups. Stand back and watch the fur fly.
When Kenneth Marcon loses his nanny to a bite from one of his inherited kids, he knows he needs someone strong to contain five werewolf children. What he finds isn't a stalwart nanny, but a werewolf manny named Jack. Kenneth and his assistant, Miles, aren't sure if Jack is what they need, but he's what they have to work with.
Jack's got what it takes to keep the kids busy—and attract both Miles's and Kenneth's attention. The two old friends have been circling each other for years, but with Jack as the final piece to the puzzle, it's time to finally act on those urges. When Kenneth is forced to travel instead of solidifying the bond with his new mates, Jack and Miles take desperate measures to get him back, even as they save the kids from one disaster after another. Amidst the chaos, they have to learn how to become not just a pack, but a family.

3.5✨s – Kenneth has taken in his five nieces and nephews after his sister died unexpectedly and their father abandoned them in his grief. Raising shifters isn't easy, puberty is hell, and the nanny just got bit by a hormonal teenager. Enter Jack, former enforcer for his birth pack and full-time manny, he's seconds away from a much-needed vacation when the call comes in for an emergency replacement. With pitiful few details, he gives up his trip, packs up his belongings, grabs his go bag, and heads to Aspen. There he meets the hot alpha, the rambunctious kids, and the stalwart beta who's been mooning over Kenneth for their whole lives. What ensues was just downright adorable.
Kid drama, family/pack drama, mate bond drama…not a whole lot of outside angst. I thought maybe there was going to be some nefarious plot with the international businessmen, but it was just a foil for the mating issue. This book is really all about the family/pack and a good majority of it happens while Kenneth is away from them. It's not overly steamy, despite being a ménage and is instead funny, sweet, and adorable. Just the right book for when you think "I need something low angst."
There are moments when you'll want to shake Kenneth for his stubbornness and, despite being the newcomer, Jack felt like the primary character as he instantly becomes instrumental in all their lives. While we get some alternating POVs here, we never got to really see Kenneth and Miles explore their feelings for one another without Jack and I think that would have bumped this up for me.
I received an ARC of Wolfmanny from the publisher in return for an honest review.

Author Bio: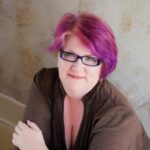 Stories that leave a mark. Julia Talbot loves romance across all the genders and genres, and loves to write about people working to see past the skin they're in to love what lies beneath. Julia Talbot lives in the great mountain and high desert Southwest, where there is hot and cold running rodeo, cowboys, and everything from meat and potatoes to the best Tex-Mex. A full time author, Julia has been published by Dreamspinner, All Romance Ebooks, and Changeling Press. She believes that everyone deserves a happy ending, so she writes about love without limits, where boys love boys, girls love girls, and boys and girls get together to get wild, especially when her crazy paranormal characters are involved. She also writes BDSM and erotic romance as Minerva Howe. "The mountains are calling, and I must go"
Where to find Julia Talbot:





Other books by Julia Talbot:
[amazon_link asins='B01N6L0K0L,B01N7T4UB1,B01JN71DW4,B01MUBR9PT,B01N39A7PD,B01IE40BH0′ template='ProductCarousel' store='jegbo07-20′ marketplace='US' link_id='5d0aad1d-ec78-11e6-87b3-911da91541d8′]