RELEASE REVIEW: Off Stage: Sets One & Two by Jaime Samms

Author Name: Jaime Samms
Book Name: Off Stage: Sets One & Two
Series: Off Stage
Page/Word Count: 614 pages, 221K words (yes, you read that right)
Categories: Gay Romance, Contemporary Romance, BDSM & Erotic Romance
Release Date: February 22, 2017
Publisher: Dreamspinner Press
Buy Links:



Blurb: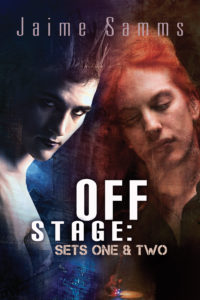 The grunge band Firefly was Trevor "Damian" Learner and Lenny Stevens's dream since they were boys growing up in rural Ontario. They found the right people to live the dream with them, even landed the best representation in the business, but the higher their star rose, the harder it became to ignore their issues.
Now, needing guidance beyond what each other and their bandmates can offer, Damian and Lenny must let go of a relationship that's hurting everyone around them and accept support from men who know what they need better than they do. Two submissives will never make each other happy without the dominance they both crave but can't find in each other.
First Damian needs to get his life on the right path and accept the rules Stan sets forth for him. Then Lenny will have to step into the wings, leave the spotlight, and concentrate on his own well-being—and Vance's guiding hand—before they can help the band reach its potential.

This is a two part book that tells the story running along the same timeline but from two different characters. In the beginning, Stanley Krane asks his biggest star Vance Ashcroft to come to a little dive bar to listen to the grunge band Firefly with him. Stan has heard the lead singer and is entranced by his voice. He wants Vance there to see if the star country singer hears the same thing. When Firefly starts playing, Vance is immediately drawn to Lenny, the lead guitarist for the band while Stan cannot tear his eyes away from Damian, the lead singer. Both Stan and Vance agree that the band has what it takes to make it big, but they also both agree that Damian is a loose cannon that will need a strong hand. After much negotiating and deals made, Stan signs the band and puts them on tour.
Lenny and Damian, whose real name is Trevor, grew up together. Trevor comes from a good home with a family that accepts that he's gay and a healthy, happy childhood. Lenny was broken at a young age and his life only got worse. His demons run deep. Lenny and Trevor live together and are tearing each other apart. Their relationship is volatile, sometimes physically abusive and yet they love each other fiercely. They want each other sexually as well, but both are submissives that cannot dominate the other and are left wanting which leads to more anger, more hurt. Each time Lenny turns Trevor down, Trevor (who turns into Damian) goes out and gets drunk, high, has reckless sex and hates himself for it. Every time he goes home after a binge, Lenny hates him a little more. And so it goes one until one night turns ugly and violent and Stan and Vance step in to intervene. A vote by the band and Lenny is kicked out of Firefly.
Here's where the stories divide.
4✨s – Off Stage: Set One
Trevor – Damian's story is told first. Stan rescues him from the beating he took from Lenny and whisks him away to help him mend. Stan takes him to the one place he knows Trevor will feel safe, home. Trevor's cousin Christian steps in to fill Lenny's role as guitarist for the band. With Lenny's departure, Trevor is left broken, his stutter has returned and his stage fright is all consuming.
Stan exercises his dominance over Trevor and Trevor thrives. He's happy to submit to Stan. He just needs Stan to keep him grounded, to tell him what to do, what he wants, a stern guiding hand. Christian helps Trevor get on stage and sing. Trevor still stutters, but only when he's upset or scared. The problem is with Lenny's departure, Damian left as well. Stanley misses Damian and knows that Damian is as much a part of Trevor as Trevor himself.
Trevor's story was heartbreaking. His hurt ran so deep that it was palpable. The scars he carried with him were like a protective shell, almost as much as the makeup and mohawk he always wore on stage. Trevor's story, though sad, felt in the end somewhat uplifting. Not quite a HEA, but definitely a getting there HEA.
5✨s – Off Stage: Set Two
The second half of this book focuses on Lenny's perspective. This part should come with a warning that tissues will be needed. I honestly cannot remember the last book I read that made me cry so hard and not just while reading the book, but also in the hours that followed – even as I write this review.
Lenny had a hard life. He was abused at the age of 8, but worse was his father's reaction to the abuse and then abandonment. Lenny was put into foster care and did not know love. As teens, Lenny and Trevor formed a band with Jethro, Beks, and Clive. Much solace was found in the music created with Trevor and Firefly. Lenny's ex, Ace was a drug addict and alcoholic who brutalized Lenny. He choked him, beat him, raped him and then died of a drug overdose. Lenny was left with so much fear, anger, and emptiness that he grew like a cancer in him.
Lenny in turn was abusive to Trevor and one night his anger got out of control. Thankfully, Vance and Stan were there to save each man. Vance took Lenny to a hotel and helped calm him. He helped Lenny see that he couldn't be a part of Firefly while he had so much anger and that lead to the band voting Lenny out.
Vance took Lenny to his horse ranch where he lives when not on tour. He sets Lenny, actually Vance prefers Len, up with a therapist and takes Len on as his submissive. The author describes Len's pain in such a way that I could almost feel Len's soul ripping, his heart breaking, and the anger and hurt felt like a cancer. The way Vance and Len hurt one another was devastating to read. They both tried so hard to please each other, they were both so sure they knew what was best for each other.
This book was a difficult read for me. Len's pain and suffering, his complete brokenness and his fear and self loathing felt so real it was as if I knew him, as if he was standing beside me. But, I am glad I read this book. I definitely look forward to Kilmer's story. I hope there is more of Firefly in the next book. I would love to know how Vance and Len do down the road. Their story didn't end for me at the end of the book, but rather felt like a beginning that I really want to read.

Author Bio:
Hi! I'm pleased to be a Dreamspinner author. I've been writing in the genre most of my life, even way back when publication was a dream. Well, It came true. My dreams have been spun into reality, and I hope you enjoy the results. Thanks for coming to see what's available. Jaime has been writing for various publishers since the fall of 2008, although she's been writing for herself far longer. Often asked why men; what's so fascinating about writing stories about men falling in love, she's never come up with a clear answer. Just that these are the stories that she loves to read, so it seemed to make sense if she was going to write, they should also be the stories she wrote. These days, you can find plenty of free reading on her website. She also writes for Freya's Bower, Loveyoudivine Alterotica, Pink Petal Books, Dreamspinner Press and Total E-Bound. Spare time, when it can be found rolled into a ball at the back of the dryer or cavorting with the dust bunnies in the corners, she's probably spending reading, drawing, gardening (weather permitting, of course, since she is Canadian!) or watching movies. Well. She has a day job or two, as well, and two kids, but thankfully, also a wonderful husband who shoulders more than his fair share of household and child care responsibilities. She graduated some time ago from college with a Fine Arts diploma, with a major in textile arts, which basically qualifies her to draw pictures and create things with string and fabric. One always needs an official slip of paper to fall back on after all….
Where to find Jaime Samms:




Other books by Jaime Samms: