REVIEW: Chasing the Dream by Andrew Grey
Author Name: Andrew Grey
Book Name: Chasing the Dream
Page Count: 60K
Categories: MM Romance
Publisher: Dreamspinner Press
Cover: L.C. Chase
Buy Links: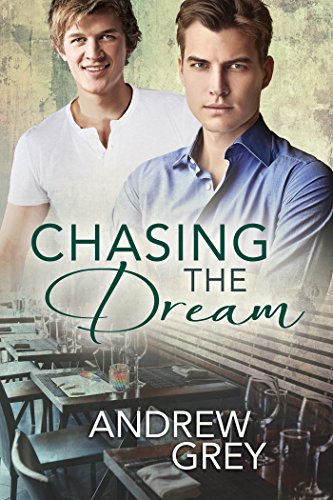 Blurb:
Born with a silver spoon in his mouth, Brian Paulson has lived a life of luxury and ease. If he's been left lonely because of his family's pursuit of wealth and their own happiness, he figures it's a small price to pay for what he sees as most important: money.
Cade McAllister has never had it easy. He works two jobs to support himself, his mother, and his special-needs brother. They don't have much, but to Cade, love and taking care of the people who are important to him mean more than material possessions. When Cade is mugged in the park, he can't afford to lose what little he has, and he's grateful for Brian's intervention.
Cade is given a chance to return the favor when Brian's grandfather passes away and Brian's assets are frozen. Cade offers Brian a place to stay and helps him find work, and the two men grow closer as they learn the good and the bad of the very different worlds they come from. Just as Brian is starting to see there's more to life than what money can buy, a clause in his grandfather's will could send their relationship up in smoke.
Jessie's Review 4✨s for Chasing the Dream
Brian Paulson lives to have fun and has deep enough pockets not to have to worry about the expense. Born into privilege, he's subscribed to the party lifestyle and surrounds himself with adoring fans of his bank account. He harbors resentment towards his family and has serious abandonment issues, and is presented as a classic case of "poor little rich boy."
A stroll in the park leads him to foil a mugging where he rescues Cade McAllister in the process. The man with two jobs so he can help his sickly mother and a special needs brother Phillip (who steals the book for me). In the face of so many obstacles, Cade is happy, bubbly, energetic, and optimistic—basically, the complete opposite of Brian in every single way.
When Brian's grandfather passes away, leaving an already greedy, grasping family fighting over who gets what, Brian is put to the test. Literally, a series of tests set up by the grandfather he wanted to know better, but who never seemed to have the time.
One second Brian is the man, the next his credit cards are being rejected, his car impounded, and he's locked out of his condo with only the clothes on his back. Cut off from his trust fund and all of his belongings, his only recourse is to follow his grandfather's instructions and, hopefully, find his dream. Along the way, he learns who his true friends are (or aren't), how to survive on next to nothing, and who he wants to be.
I liked the story overall, but I had a lot of trouble with the romantic connection.
Cade's no-nonsense opinions about Brian's situation started out as just the mirror Brian needed, but quickly turned sour for me. Yes, Brian needed a reality check, but Brian was already down and everyone else was getting in their kicks. Cade was going above and beyond to help Brian, but at the same time he never really understood Brian and his opinions about Brian's situation were biased by his own experiences. While that may seem logical, it took all the compassion out of those conversations for me.
At the same time, Brian's disconnect from the reality of himself and life outside his privileged bubble left him completely floundering. Grasping onto Cade the way he did was an act of desperation and he let Cade control their every interaction so he wouldn't lose the only person who hadn't tossed him aside. For me, I never felt like we saw Brian grow into being his own man, but instead saw a man willing to do anything (and had the resources to literally do anything) to keep the only man to show him kindness. All the right words were said, all the moving parts were in motion, but I missed the confidence behind it all coming together.
The main question of the book is: is this a love match or two men who each have needs the other can fill? Read it for yourself and tell me you think 🙂 I promise, if you're not charmed by Brian or Cade, Phillip will totally steal your heart.
About the Author:
Andrew grew up in western Michigan with a father who loved to tell stories and a mother who loved to read them. Since then he has lived throughout the country and traveled throughout the world. He has a master's degree from the University of Wisconsin-Milwaukee and works in information systems for a large corporation. Andrew's hobbies include collecting antiques, gardening, and leaving his dirty dishes anywhere but in the sink (particularly when writing) He considers himself blessed with an accepting family, fantastic friends, and the world's most supportive and loving partner. Andrew currently lives in beautiful, historic Carlisle, Pennsylvania.