REVIEW: On Fire by Alicia Nordwell

Author Name: Alicia Nordwell
Book Name: On Fire
Series: States of Love
Page/Word Count: 137 pages, 48k words
Categories: MM Romance, Contemporary
Release Date: October 26, 2016
Publisher: Dreamspinner Press
Cover Artist: Garrett Leigh
Buy Links: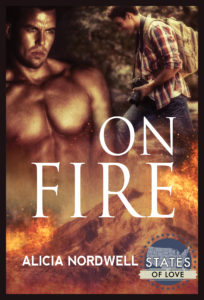 Blurb:
Nothing beats getting out of the concrete jungle and into the quiet of the forest. Website designer Scottie Ness is taking a well-deserved vacation from the grindstone, and he plans to spend it in the solitude of Washington's Gifford Pinchot National Forest around Mt. Adams. He's prepared for everything—except the lightning storm that traps him in a wildfire.
The firefighter who rescues him sustains serious injuries and ends up in the hospital. Jax Quintero might be abrasive, but the guy saved his life, and Scottie wants to thank him. As they spend time together during Jax's recovery and exploring the state's landmarks when he's released from the hospital, Scottie discovers there's more to Jax than a smart-ass adrenaline junkie. Jax reassesses his opinion of Scottie as an arrogant city boy who has no business in the mountains. Though Jax's wounds prevent them from taking things as far as they'd like for a while, they can't deny the heat building between them—and this is one fire they don't want to put out.
States of Love: Stories of romance that span every corner of the United States.

4✨s – I was lucky enough to receive this book by the publisher and voluntarily agreed to leave an honest review.
Okay, first we have Scottie; businessman, city boy who gets a week vacation from work and decides to do what his family has always done and spend some time out in the wilderness. Hiking and camping and just getting away to the quiet of nature and take some pictures of the mountains, that's his hobby and he's quite good at it. He's responsible about it as well, he leaves daily reports and checks in with park rangers and safety spots so that if he runs into any trouble, the correct people will know where he's at and where he's headed. Just in case.
What he wasn't anticipating is a wild brush fire and it gets out of hand fast and he ends up getting injured. Meanwhile, Jax, firefighter and dude with a bad attitude thinks Scottie is just another amateur out on the mountains and he's got to risk his life to try to save him…. And come on, dude… it's your job… I didn't care much for Jax in the beginning; I didn't like the attitude he had or the way he treated Scottie, especially because, like I said, it's his job and he takes great pride in it; so what's the deal?
Scottie feels bad enough and takes it upon himself to visit Jax often in the hospital after he gets hurt during Scottie's rescue and brings him gifts and finds ways to entertain him during his timely hospital stay. They get to know each other that way and then more and more as time goes on. I don't wanna spoil too much of it, but their relationship progresses in a natural friends to lovers kind of way. It doesn't take long because they're attracted to each other from the beginning, there's little to no angst and I liked that, I'm not big on angsty reads so this one was a good, light read with a few steamy encounters thrown in. It ends on a sweet note and it's just the beginning for these two, I'm curious to see if there's more in store for these two sometime in the future. This is the first book I've read from this author and it was just the kind of story I needed at the moment. Light, sweet and low angst.

Author Bio:
The number one question folks ask Alicia when she shares she's a MM romance author: "Why gay fiction? Why write men when you're a woman?" and her answer is: "Why the hell not!" Alicia Nordwell is one of those not so rare creatures, a reader turned writer. Striving to find an interesting story one day, she decided to write what she wanted instead. Then the voices started… Yep, not only does she talk about herself in the third person for bios, she has voices in her head constantly clamoring to get out. Fortunately, with the encouragement of her family and friends, she decided for her own sanity to keep writing. Now you can find her stories both free and e-published. When she's not on the computer typing away, she's a wife and a mom of two in the dreary, yet ideal for her redhead complexion, Pacific Northwest. Except for when she disappears into one of the many worlds in her head, of course! She can also be found quite often at her blog, where she has a lot of free fiction for readers to enjoy or working hard, or maybe hardly working, as an admin on GayAuthors.org under her online nickname, Cia.
Where to find the author: