REVIEW: Smoke & Mirrors by Charlie Cochet

Author Name: Charlie Cochet
Book Name: Smoke & Mirrors
Series Info: THIRDS Book #7
Page/Word Count: 91K
Categories: MM Romance, Mystery & Suspense, Urban Fantasy, Shapeshifters
Publisher: Dreamspinner Press
Publisher: L.C. Chase





Blurb:
Life for Dexter J. Daley has never been easy, but he's always found a way to pick himself back up with a smile on his face. Taken from his home and the arms of Sloane Brodie, his boyfriend and THIRDS partner, Dex finds himself in a situation as mysterious and lethal as the Therian interrogating him. Dex learns what he's secretly believed all along: his parents' death wasn't an accident.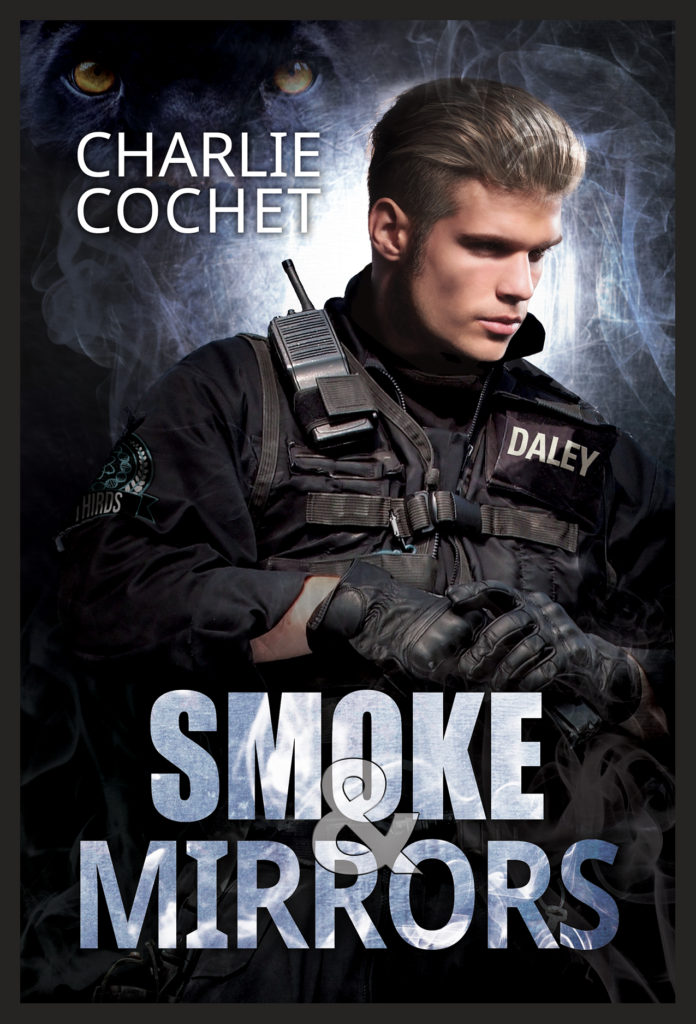 Discovering the whole truth about John and Gina Daley's homicide sets off a series of events that will change Dex and Sloane's life forever. As buried secrets rise to the surface and new truths are revealed, Dex and Sloane's love for each other is put to the test, with more than their relationship on the line. If traversing the waters of murder and secret government agencies wasn't enough, something inexplicable has been happening to Dex—and nothing will ever be the same.
Jessie gives Smoke & Mirrors 5✨s
So I have a phobia about series books that mess with existing relationships and though I love this series immensely, I was a little concerned by the blurb. Was Charlie really going to mess with Dex and Sloane?
The simple answer is: yes. Is it worth it? Absolutely!
The action starts on page one with Dex being held prisoner by an as-yet unknown kidnapper. He is tortured for information he doesn't know he has and never once loses the signature sarcasm that makes him so damn lovable. Even his captor is enamored. But things are happening deep inside Dex that we, as readers, have been waiting for and though it shouldn't be possible, he's able to escape.
Alive but not unscathed, with his whole world changing not just around him but inside him – what follows is a wild adventure filled with all the components we've come to expect in this world. New secrets are revealed that put Dex and Sloane's love to the test – this was my biggest fear and I was really pissed with Sloane. Then my whole world tipped again when Ash became the voice of reason. Yes, Ash! I wasn't ready to forgive Sloane, honestly, but Charlie has a way and I'm not sure I like that she knows it.
Do we get what we all were waiting for? I won't spell it out, spoilers aren't my thing, but when it happens it was heartbreaking and awesome. The decisions Dex and Sloane make at the end were an interesting twist, but I really hope we get Seb & Hudson before they follow that path. Unless, of course, Seb & Hudson are on that path too. Now wouldn't that be interesting?
Favorite line: I love you, Batman.
Smoke & Mirrors is the much anticipated 7th installment in the THIRDS series and is NOT a standalone.
About Charlie Cochet
Charlie Cochet is an author by day and artist by night. Always quick to succumb to the whispers of her wayward muse, no star is out of reach when following her passion. From adventurous agents and sexy shifters, to society gentlemen and hardboiled detectives, there's bound to be plenty of mischief for her heroes to find themselves in, and plenty of romance, too!
Currently residing in Central Florida, Charlie is at the beck and call of a rascally Doxiepoo bent on world domination. When she isn't writing, she can usually be found reading, drawing, or watching movies. She runs on coffee, thrives on music, and loves to hear from readers.