SERIES REVIEW: Enlightenment Series by Joanna Chambers

Author: Joanna Chambers
Book: Provoked, Beguiled, Enlightened
Series: Enlightenment Series 1 – 3
Provoked (Enlightenment #1):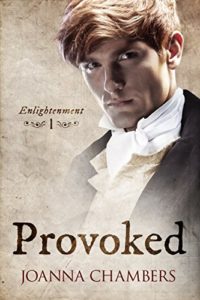 David Lauriston is struggling to build his reputation in Edinburgh's privileged legal world. His humble origins are enough of a hurdle, never mind his recent decision to defend a group of weavers accused of treason, prompting speculation that he may harbour radical sympathies. The last thing he should be doing is agreeing to help the brother of one of the convicted weavers find the government agent who caused his brother's downfall.
David's personal life is no more successful. Tormented by his forbidden desires for other men, and the painful memories of the childhood friend he once loved, David tries his hardest to live a celibate existence, castigating himself whenever his resolve slips.
But then—into David's repressed and orderly world—bursts Lord Murdo Balfour.
Cynical, hedonistic and utterly unapologetic, Murdo could not be less like David. Whilst David refuses to entertain the prospect of entering into a loveless marriage for propriety's sake, Murdo is determined to wed one day—and has no intention of giving up the company of other men when he does so. But as appalled as David is by Murdo's unrepentant self-interest, he cannot resist the man's sway.
Murdo tempts and provokes David in equal measure, distracting him from his promise to find the agent provocateur responsible for the weavers' fate, and forcing him to acknowledge his physical desires.
But is Murdo more than a mere distraction?
Is it possible he could be the very man David is looking for?
Buy Links: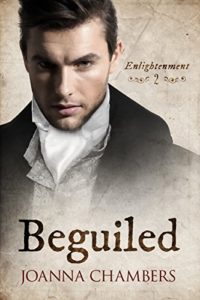 Beguiled (Enlightenment #2):
Two years after his last encounter with cynical nobleman Lord Murdo Balfour, David Lauriston accidentally meets him again in the heart of Edinburgh.
King George IV is about to make his first visit to Edinburgh and Murdo has been sent North by his politician father to represent his aristocratic family at the celebrations.
David and Murdo's last parting was painful—and on Murdo's part, bitter—but Murdo's feelings seem to have mellowed in the intervening years. So much so, that he suggests to David that they enjoy each other's company during Murdo's stay in the capital.
Despite his initial reservations, David cannot put Murdo's proposal from his mind, and soon find himself at Murdo's door—and in his arms.
But other figures from David's past are converging on the city, and as the pomp and ceremony of the King's visit unfolds around them, David is drawn into a chain of events that will threaten everything: his career, his wellbeing, and the fragile bond that, despite David's best intentions, is growing between him and Murdo.
Buy Links:


Enlightened (Enlightenment #3):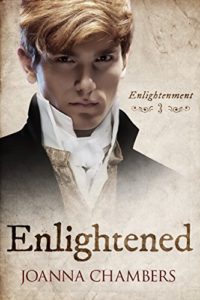 David Lauriston has been recuperating at Lord Murdo Balfour's Laverock estate for the last five months. At Laverock, he has regained his health and confidence and has found—with Murdo—more happiness and contentment than he has never known before.
David is all too aware that some day soon he will have to leave Laverock—and Murdo—and return to his legal practice in Edinburgh, just as Murdo will have to return to his life in London. But when David's mentor, Patrick Chalmers, asks David to return to Edinburgh to visit him on his deathbed, it seems that day has come sooner than either David or Murdo would have wished.
Chalmers begs David to undertake one last piece of business for him: to secure the future of Chalmers's daughter Elizabeth. But to carry out his old mentor's wishes, David must travel to London, with Murdo.
No sooner have the two men arrived in the capital than they encounter Murdo's ruthlessly manipulative father, who reveals a shocking secret that rocks David to his foundations. What's more, when David discovers Elizabeth is facing far greater danger than even her father feared, he is determined to help her, no matter the cost to his own safety.
As the stakes rise, it is Murdo who must choose what he is prepared to sacrifice to keep David at his side, and ask whether there is any possibility of lasting happiness for men like them.
Buy Links:



5✨s – Just a wonderful series, with each book better than the one before. I first read this series just over a year ago and enjoyed it then. These are newly released editions, but I did not note any changes from the original.
Provoked: Book One The characterizations of David Lauriston and Lord Murdo Balfour, the world building in 1800's Edinburgh were just striking, as was the perfectly paced narrative from David's POV, presented in third person. Their attraction and the sexual tension was well conveyed, as were the effects of their conflicting viewpoints, due to their opposing backgrounds in the social and cultural norms of that era. The plot, centered around David's friend Euan, brought them together again but also served to drive them further apart. It was very bittersweet, as it ended without any resolution between them, just a fatalistic parting. If I didn't know it continued as a series, I'd have been flinging my tablet!
Beguiled: Book Two Two long years have passed since David and Murdo parted, on not entirely good terms. They meet again by chance, as Murdo is in Edinburgh for the King's visit. Although David still struggles with his own nature, his last conversation with Murdo did leave an impression on both of them and neither has ever forgotten the other. In the midst of the pomp surrounding the king, and David's concerns over his friends, Elizabeth and Evan, he and Murdo reestablish their connection and then some. Reading this time, I was also struck by a passage that seemed like some prescience of current politics;
"Does it really matter whether our kingmakers are aristocrats or philosophers or bankers?" "Ah, but this is only the beginning," David retorted. "One day we will have universal suffrage. And then, how things will change!" Murdo merely shrugged. "We'll see. I have always found that men are defined more by their desire to do each other down rather than to lift each other up, but time will tell."
It's far more than a simple historical romance and made this second installment even more of a delight to read. It was also a far more hopeful ending!
Enlightened: Book Three David and Murdo have enjoyed a long stay at Murdo's country estate while David is healing from his injuries. But events are ending their idyllic break from reality and they both need to travel to London. David needs to make arrangements for Elizabeth and Evan again, and Murdo has his own reasons and business to pursue while there. But unexpected encounters and revelations have both men facing an uncertain future and unsure of where they stand with each other. It was fascinating experiencing the evolution of the cynical and worldly Lord Murdo we met in book one. David has changed greatly too but is still too blinded by the societal and moral strictures that have ruled his life. It's a wonderful plot, with a unique resolution that is fitting for the expectations of the time period. I can't help but recommend this to any historical fiction fan, or even those like me, who indulge less often.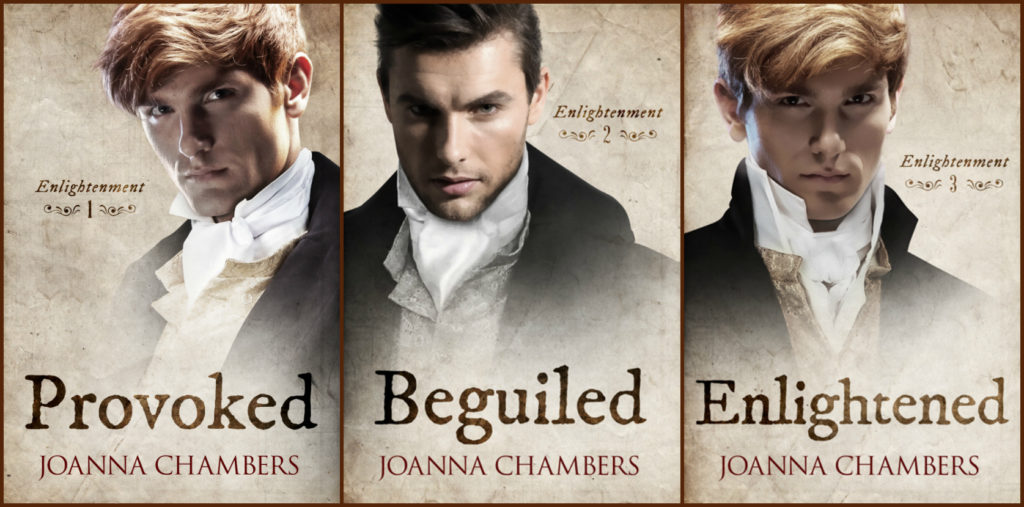 About Joanna Chambers:
Joanna Chambers always wanted to write. She spent over 20 years staring at blank sheets of paper and despairing of ever writing a single word. In between staring at blank sheets of paper, she studied law, met her husband and had two children. Whilst nursing her first child, she rediscovered her love of romance and found her muse. Joanna lives in Scotland with her family and finds time to write by eschewing sleep and popular culture.
Where to find Joanna Chambers:





Contest:
a Rafflecopter giveaway