SERIES SPOTLIGHT: A Mockingbird Place Bundle by Kris Cook

Author: Kris Cook
Book: A Mockingbird Place Bundle
Series: Mockingbird Place – Books 1 – 6 + Bonus Material
Page/Word Count: 297K words
Categories: Gay Romance, New Adult
Release Date: March 28, 2017
Cover: Rachel Connolly
Buy Links:


Blurb: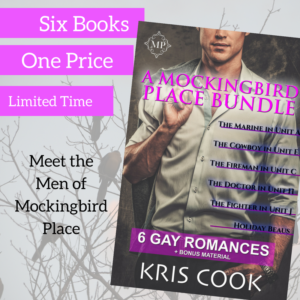 Six Gay Romances all taking place at Mockingbird Place in Dallas – plus Bonus Scenes at Lifeline Ranch
The lives of hot gay college-aged residents of the 10-unit apartment complex are explored.
The Marine in Unit A – Oliver & Adam
The Cowboy in Unit E – Trace & Luke
The Fireman in Unit C – Eli & Jackson
The Doctor in Unit H – Jaris & Maddox
The Fighter in Unit J – Tony & Stephen
Holiday Beaus – Chad & Blake
Bonus Scenes – Lifeline Ranch: Our couples take the next steps in their journey of love.
Excerpt:
"Hello," he says in a tone that is warm to my ears. "Sorry about the mess."
My anger subsides some, but I'm in no mood to be nice. "Do you mind holding off moving your shit in? We're conducting a memorial service for the man who lived in this unit."
He glances over at the others, who are consoling one another. "I didn't realize. Of course I can wait. I'm so sorry. I didn't know." He seems genuine. "A buddy who is supposed to help me with the bigger stuff will be showing up soon, but we'll wait until you are done. Is that all right?"
My anger is replaced by curiosity. Adam appears to be a very nice guy. "Yes. That will work."
There is something about him that draws me in. Is he genuine or is it only an act? And then I recall something Malcolm told me once. A new friend, or boyfriend, often helps distract us from difficulties.
Having to face the biggest difficulty of my entire life, I hold out my hand. "I'm Oliver Lancaster, Unit F." I point at my front door. "You know, the bottom of the U."
He shakes my hand firmly. "Adam Stockton, Unit A, but you know that already." He smiles. "The top right apartment of the U, next door to the laundry room."
I grin, liking his sense of humor. Unable to look away, I gaze into Adam's dark-brown eyes, the darkest I've ever seen. Almost black. His hair, also dark-brown, is short, much shorter than my own. What looks to me like three days without a razor, he has the most handsome, manly face I've ever seen. The jeans and T-shirt he wears cannot conceal the muscled frame underneath. He is ripped but not overly bulky.
I kneel down beside the rubble. "I hope nothing expensive was broken."
He kneels down next to me and sweeps up the big pieces of glass. "Just odds and ends. Nothing important."
I smile, still locking onto those eyes with the biggest lashes I've ever seen on a man.
About Kris Cook:
Kris loves many genres of fiction, but this writer's favorite books are romances that are edgy, sexy, with rich characters and unique challenges. Kris's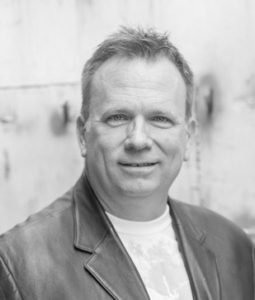 influences include Anne Rice, JR Ward, Lexi Blake and Shayla Black. If you want to get in touch, you can tweet him @Kris_Cook or just send an e-mail to kris@kriscook.net. Hi Readers, this is Kris. I'd like to tell you thanks for your support. It's because of you that make Indie authors like myself able to keep telling our stories. Thanks so much!!! If you have read one of my books, would you consider taking a moment to post a review? One or two sentences is all that is needed. It really helps get the word out. I will be forever grateful. Thanks again! Kris
5 Questions with Kris Cook:
What is your writing process? (i.e. plotter or panster, explain) I am a mix of both. Some books I'm more plotter, especially those that have a heavy suspense element. Others, like Holiday Beaus (which is included in the bundle) I'm more of a pantser.
What is the hardest part of that process for you? I'm terrible at marketing. I guess it is because of how I was brought up not to brag or boast about myself. Thankfully, for people like you, Jessie and others my books are shared on social media.
There's a big leap a writer takes from putting words down on paper for the love of it and actually publishing those words for public scrutiny. What was that journey like for you? It took me a long time to get published. That happened for me eight years ago. That's why the limited release of A Mockingbird Place Bundle came to be. I wanted to say thanks and celebrate that event.
What one piece of advice would you give an aspiring writing considering that leap for themselves? Write. Write. Write. Just keep at it. Don't give up.
What can readers expect from you next? The next thing up is a re-release of my second book THREE TO PLAY. It's an MMF erotic book that I am going over again and adding bonus scenes. So excited about it. Then comes out the final book of the Mockingbird Place series, The Cop in Unit F. Very excited about Mike's book.
5 Quickies with Kris Cook:
Favorite curse word: I know it should be the F-word but the D-word is so versatile and can be used anywhere and in front of anyone.
Favorite dance move (video?!?): Two-step… not good at it, but I try. LOL!
Over or under (toilet paper, of course): Over. I'm not nuts. LOL!
Weapon of choice: Weapon? I'm a lover not a fighter.
Evil mastermind, easily convinced partner in crime, or innocent bystander: Easily convinced partner in crime, but with a few cocktails can become the Evil Mastermind.
Where to find Kris Cook:






Other books by Kris Cook:
[amazon_link asins='B06W2L6XX2,B01KN643XA,B01FMQ5CB8,B01BQWT75E,B014S5MIO8,B014Q2BPOM' template='ProductCarousel' store='jegbo07-20′ marketplace='US' link_id='5b09ce2c-1ac8-11e7-abc3-ebf2a70356e0′]