TRIPLE REVIEW: Hacked Up by Ethan Stone

Author Name: Ethan Stone
Book Name: Hacked Up
Page/Word Count: 264 pages
Categories: Gay Romance, Mystery & Suspense
Release Date: February 6, 2017
Publisher: Stone Publishing
Buy Links:


Blurb: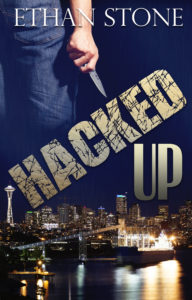 Seattle is being plagued by a string of gruesome murders. For Detective Peter Tao, it's a career-making case, but he's struggling to find a lead. How is the killer choosing his victims? What is he trying to prove?
With a long list of suspects and nothing to connect them, Peter is more determined than ever to apprehend the murderer. Then Peter gets the one vital piece of evidence that ties everything together. Now he'll have to look beyond the obvious to identify the killer before anyone else is murdered.
Solve the mystery in this fast-moving crime thriller by Ethan Stone.
Excerpt:

4✨s – Seattle Police Detective Peter Tao is trying to catch a serial killer. Not just any old run of the mill serial killer either. The killer kills the men quickly and then cuts off their genitals. The piece of the puzzle that ties all of the murders together is written right of the pages of a real life scandal. I must say, I was impressed. I loved how the story line closely paralleled what happened in real life.
Very early in the book I knew I really like Peter. He's a good Detective. He's kind, thoughtful, and has depth. This book is definitely a fast paced thriller. I had no idea who the killer was going to be until I read the end of the book. I really hate books where I can guess who the bad guy is early on and just wait for the story to get there. This book had me guessing the whole time. Every time I was sure I had figured out who the killer was, the author would throw a different spin on the story and my head would reel.
There's no sex in this book though Peter is admittedly gay, just not openly gay and definitely not out to his traditional Korean family. I really didn't mind the lack of sex though. I will admit that I really, really want there to be a book two that hopefully will have Peter exploring his attraction to Bryce. I think the author set this book up perfectly to write a second one and I'm hoping that is his plan.

4✨s – For the first little bit of this book I was thinking- nope, not for me. I hate cheating. HATE IT. And to be honest Peter came off as a self-righteous jerk. At first. But slowly he started to draw me in, seeing him as a whole instead of the bits that he was showing to others. Even as a first person POV he was able to hide behind his snarky mouth, hard heart and badge.
Then we meet Bryce Carrick. The attraction is immediate as is the animosity! There is so much more to Bryce than his cheating, and as Peter gets to know him through the case the possibility of more, so much more, is realized.
I love suspenseful stories with a dash of romance thrown in. The story-and the case- kept me guessing. As soon as I thought I knew I was thrown a curve, and second guessed myself.
Seemed to me that the police procedural aspect was a bit all over the place. Peter was bested quite a few times, all of his harda@@ veneer definitely cracked.
The character development was believable. With each new twist and turn Peter adapted, showcasing his skill and ever growing maturity.
While there was no grand HEA, the HFN was the perfect way to end the book. Things weren't perfect by any means and that worked. All of the story threads weren't completely tied up, leaving a possibility for more *hint, hint, nudge, nudge*

4✨s – I knew going into this book that romance would not be the forefront of the story and I can't tell you how much I was looking forward to it. Suspense is by far my favorite genre, in all its incantations, and I get just a twinge annoyed when it's thrown in as filler in between sex scenes.
Peter has very serious beliefs about cheating and in his mind, there is no excuse. So, when a serial killer brings this very strongly held belief into harsh focus, Peter will stop at nothing to solve the case. Through false leads and misinformation, we follow him through the grueling process of weeding out the lies to get to the truth and like my fellow reviewers, I didn't see it coming. And I love that.
But things aren't all mutilated genitals and cheating spouses, there's an interesting romantic twist here. One of the potential victims, the very wealthy Bryce, is everything Ethan needs to stay away from. A man who cheated on his wife, got caught, and is now in the cross hairs of Peter's serial killer. Only Bryce wants to help solve the case and, more importantly, he wants Peter. In the course of finding their footing, Bryce will challenge Peter's understandably narrow view of cheating and give us a glimpse at what life could be like for this unlikely pair.
I really liked this story, I really hope Ethan continues the Peter Tao Mysteries (isn't that a great series name?) with Bryce as his relentless sidekick.
Author Bio:
Romance on the Edge
Ethan Stone doesn't write your typical boy meets boy stories. With a combination of love and suspense he makes his characters work hard for their HEAs. If they can survive what he puts them through, then they can survive anything. He enjoys Romance with an Edge.
Ethan has been reading mysteries and thrillers since he was young. He's had a thing for guys in uniform for just as long. That may have influenced the stories he writes.
He's a native Oregonian with two kids. One of whom has made him a grandfather three times over; even though he is way too young.
Where to find Ethan Stone:






Other books by Ethan Stone:
[amazon_link asins='B00GDVZ9YW,B00VJANSSQ,B00K3A7E1A,B01CUOPEGI,B01C7GA4U0,B06X93CQTF' template='ProductCarousel' store='jegbo07-20′ marketplace='US' link_id='3d9103aa-f84e-11e6-9fef-53571e7b6b07′]