TRIPLE THREAT REVIEW: Runner by Parker Williams

Author: Parker Williams
Book: Runner
Page/Word Count: 200 pages, 65K words
Categories: Gay Romance, Contemporary Romance
Release Date: July 28, 2017
Publisher: Dreamspinner Press
Cover: Reese Dante
Buy Links: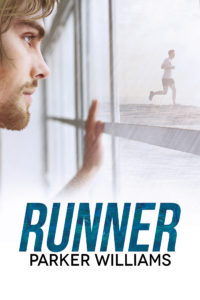 Blurb:
Matt Bowers's life ended at sixteen, when a vicious betrayal by someone who he should have been able to trust left him a shell of himself, fighting OCD and PTSD, living in constant fear and always running. When he buys a remote tract of land, he thinks he's found the perfect place to hide from the world and attempt to establish some peace. For ten years he believes he's found a measure of comfort, until the day a stranger begins to run on Matt's road.
He returns every day, an unwelcome intrusion into Matt's carefully structured life. Matt appeals to the local sheriff, who cannot help him since the jogger is doing nothing wrong. Gradually, after tentatively breaking the ice, Matt begins to accept the man's presence—
But when the runner doesn't show up one day, it throws Matt's world into chaos and he must make the hardest decision of his life.

4✨s – Matt Bower because a total recluse after suffering a significant trauma at the age of 16. The event left him with PTSD and OCD. His mom tried to help him with counseling and such, but also complained that Matt wasn't "normal". As soon as Matt turned 18, he built a house far out of reach of the city he grew up in and shut himself in. He stopped talking to his mom and rarely spoke to his brother. He was comfortable living his life alone. Then one day someone ran by his house and Matt's world turned upside down.
The book is told entirely from Matt's POV and it gives the reader an insight into the mind of a very troubled person. My heart ached for Matt and the trauma he suffered at such a pivotal age in any teens' life.
The problems I had with this story are the other characters in the book were not given enough time and attention. Charlie, the runner, was endlessly patient with Matt which I found difficult to believe would happen in real life. And how could Matt's mother just sit back and let Matt cut himself off from her for so many years?

3✨s – Runner had so much potential. The fear and depression that rules Matt's life were impossible to imagine yet clearly painful. As his life as a recluse took over he shut everyone out, EVERYONE. Here begins some of my issues.
What Mom would just let him be? Even his brother, who is truly a saint, allows Matt make all the rules. To the point that they are not allowed even on his property!
It is easy to imagine the solitude Matt needs. Yet with all of the interwebs and online support he really hasn't moved past any of his ghosts?? Besides the fact that the "teacher" would have feared for his life until the end of his days.
Then we have Charlie, another saint. I like how he is with Matt. And watching Matt understand his feelings and fall in love- so sweet. But the way he bends over backward, not having Matt meet him even a little way. Most of the work falls to Charlie. Here is another nitpick for me, Matt is finally willing to help himself, but only because of Charlie?? Not his mom or brother. He even tells Charlie "I will always choose you" to which Charlie says it is not an either/or. Yet being in Matt's head we know that almost all of his forward momentum is due to Charlie's influence.
Maybe being in the first person POV stilted the story some. I just never quite clicked with Matt, even though I did enjoy his inner monologue.
Overall a sweet if shallow love story that had the potential to be a very powerful tale, but didn't quite make it for me.

3✨s – Parker Williams has written a very touching story about a young man turned recluse due to a traumatic experience at 16. His age was important in understanding some of his issues, I think. He hadn't experienced dating or any physical intimacy as a gay man, when his desires were cruelly tainted. To me, it supported his reclusiveness and rejecting continued therapy while still a teen. Much of the slow progress he achieved seemed realistic in that respect.
The story is told entirely from Matt's first person POV, which was fine, except it was a disservice to the adequate characterization of Charlie and secondary characters. Charlie was too perfect, endlessly patient and understanding, carefully catering to all of Matt's idiosyncrasies. I did not feel he was given real depth as if he was simply molded to fit around Matt's character. The lack of effort by his mother and brother to get him help was an absence of logic I couldn't get my head around. My other issue was the speed at which Matt modified his behavior to care for Charlie, when they'd had only one complete conversation. Charlie and Matt having little sex was logical, but the one scene near the end was too clinical and lacked intimacy.
I did enjoy the hurt/comfort theme, the slow progress of Matt's recovery and his ultimate determination to help himself. I just took issue with some of the execution and details. Kudos for not using love as a cure-all, but allowing it to give Matt the motivation to help himself change. The last part of the book was a bit mushy but it was a nice glimpse into the future and gave the couple a solid HEA.

About Parker Williams:
Parker Williams believes that everyone deserves a chance at happily ever after. He also knows that it seldom comes without a price tag. He writes men who are flawed, but redeemable by love – usually. He writes m/m romance in several sub-genres, but one thing remains consistent: Love is power, no matter who you're in love with.
Where to find Parker Williams: