UPCOMING RELEASE: All The World's An Undead Stage by Angel Martinez

Author: Angel Martinez
Book: All The World's An Undead Stage
Series: Offbeat Crimes, Book #6
Page/Word Count: 144 pages, 50K words
Categories: Gay Romance, Fantasy/Paranormal/Sci-Fi
Release Date: January 2, 2018
Pre-order Now: Pride Publishing
---
Blurb: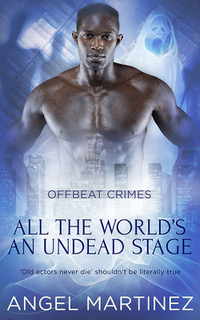 Carrington Loveless III, skim-blood vampire and senior officer of Philly's paranormal police department, has long suspected that someone's targeting his squad. The increasingly bizarre and dangerous entities invading their city can't be a coincidence. So when a walking corpse spouting Oscar Wilde attacks one of his officers, Carrington's determined to uncover the evil mind behind it all.
As a rare books librarian, Erasmus Graham thought he understood some of the stranger things in life. Sharing a life with Carrington's shown him he didn't know the half of it. They've survived attack books and deadly dust bunnies together and got through mostly unscathed. Now his world and his vampire's appear ready to collide again. Books are missing from the rare books' collection—old tomes of magic containing dangerous summonings and necromancy. He's certain whoever's been stalking the Seventy-Seventh is composing their end game. It's going to take a consolidated effort from paranormal police, librarians, and some not-quite-authorized civilians to head off the impending catastrophe.
Series Blurb:
Every region has them, but no police department talks about them—the weird crimes, the encounters with creatures out of nightmares. The 77th Precincts exist in certain cities to handle paranormal crime and containment, usually staffed with experienced officers exhibiting psychic abilities.
In Philadelphia, through an odd mix of budget issues and circumstance, the 77th is manned entirely by officers with bizarre or severely limited psychic talents. The firestarter who can't get a spark when it's humid. The vampire who can't drink whole blood. These are the stories of the misfits, the outcasts from even the strangeness of the paranormal community. Call them freaks, but they're police officers first, serving and protecting, even if their methods aren't always normal procedure.
---
About Angel Martinez: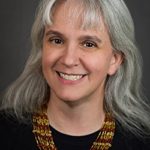 The unlikely black sheep of an ivory tower intellectual family, Angel Martinez has managed to make her way through life reasonably unscathed. Despite a wildly misspent youth, she snagged a degree in English Lit, married once and did it right the first time, (same husband for almost twenty-four years) gave birth to one amazing son, (now in college) and realized at some point that she could get paid for writing.
Published since 2006, Angel's cynical heart cloaks a desperate romantic. You'll find drama and humor given equal weight in her writing and don't expect sad endings. Life is sad enough.
She currently lives in Delaware in a drinking town with a college problem and writes Science Fiction and Fantasy centered around gay heroes.
Guest Post:
Where Does the Paranormal Start and the Urban Fantasy Begin?
I suppose we could subtitle this You Got Vampires in My Urban Fantasy. Because of the way in which booksellers shelve and publishers categorize books, there's a lot of confusion regarding what's paranormal and what's urban fantasy. It's not impossible to tell one from the other, but it can be tricky and some authors insist on genre mashing just to make things interesting.
Paranormal refers to something outside normal human understanding. (Para meaning beside, so in this case a set of knowledge that runs alongside the normal.) These are, generally, things associated with humans that possibly could be explained by a body of knowledge we don't yet understand. Or we once believed so – studying psychic and supernatural phenomena was once regarded as a science. Some people still treat it as such. Ghosts, demons, humans with extra abilities such as telekinesis or humans who have been enhanced through contact with paranormal beings such as vampires or werewolves.
Paranormal stories take place in our world, the setting recognizable as our world with events and beings operating outside the normal range of human experience or understanding. The majority of humans in the story's world will not know about these paranormal events or beings. That knowledge is reserved for a single person or a small subset of people in the paranormal story.
Urban Fantasy, on the other hand, takes place in an Earth setting that is subtly changed. Originally, urban fantasy denoted a modern urban setting, often with grittier results than high fantasy. But the term has expanded so that it can include any real world urban setting in any period and modern settings that are not necessarily urban. The key to urban fantasy is that it's not quite the world as we know it. Magic is real and has laws of operation just as physics or chemistry do. Creatures from legend and folklore may well walk the streets. Human society is somehow changed, in large part or small, by this setting.
The majority subset of humans in urban fantasy, or in some cases all humans, are aware of the magic and the magical creatures. They are part of society for good or ill and humans need to deal with them.
So are werewolves and vampires always paranormal? Not necessarily. Man walking the moors alone at night is attacked by a feral creature but survives and finds to his horror that he changes every full moon. Paranormal. You have a paranormal creature operating outside the normal byways of human society and a person who is changed by coming in contact with said creature. However, if you have a werewolf tribe living and working in Atlanta as an integral part of the community and society has needed to make accommodations for them?
That's urban fantasy.
Offbeat Crimes comes very close to straddling that line, but still falls within the paranormal spectrum. The series takes place in our world, in modern Philadelphia, with no overall system of magic in place. We have a small subset of the population, in this case police officers who are enhanced humans, who are aware of paranormal happenings and try to shield the general population from these happenings. Try being the operative term some days.
Never mind that their special powers are all jacked up. They still do the best they can.
Where to find Angel Martinez: