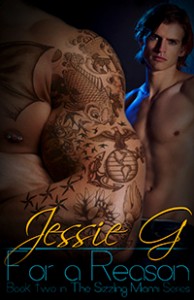 Former Marine and full time big brother, Bull Connor spends his days helping those in need of a second chance and his nights fighting the inner demons that won't let go. During a routine tow he comes face to face with the only person who refuses to need him and the one man he wishes would.
As a throw away, Ian Jones is used to being alternately overlooked or ridiculed but hasn't given up on the idea that with just one chance he could turn it all around. Rescued by the one person who neither overlooks nor ridicules him, he longs to be seen as more than just a man in need.
Ian isn't pining for the family he's never known but when they descend, unwanted and uninvited, Bull must prove that he's the man who will protect Ian's long neglected heart by sharing the demons that torment his wounded soul.
Signed Books
You can now order signed books through my Facebook Shop (US Customers). International customers should email me at jessieg@jessiegbooks.com. Want a signed e-book? Request a personalized message from me on the ebook of your choice to receive an email with links to download a PDF (NOOK, iBooks, etc.) or have it sent directly to your Kindle.
Bonus Content
#13Months13Scenes: One Year Later hosted by BFD Book Blog (July 2016)
#PatreonExclusive: Paying it Forward (February 2017)
Teasers
What Readers Are Saying…
KathyMac Reviews gives For A Reason 5 Stars
This is an amazing story about survival, strength, perseverance, and love. You will experience many emotions as you read the trials and tribulations of these stand up characters. I went through moments of real anger at the events taking place. Then it was so much compassion for the situation. A lot of the time there was laughter and smiling from ear to ear. Toward the end, I was crying like a baby. I was trying to catch my tears and not let on as hubby watched the ball game across from me.
Missy F gives For A Reason 5 Stars
This is an emotional read and it was so well-written. There were no loose ends, no fantastically beyond belief moments (except for a little bit of insta love but it works in this story), just quiet moments of self-reflection, unconditional love, and acceptance. And, some humor and rough sex *wink*. Separately Ian and Bull were strong, together invincible. Awesome love story. Can't wait for the secondary characters to get their stories, especially Chris….
Carly's Book Reviews gives For A Reason 5 Stars
FOR A REASON, second in the Sizzling Miami series, can easily be read as a stand-alone. Touchingly emotional, Ian and Bull must learn to let go of the secrets of their past in order to move into the future. The full cast of captivating characters, and well developed story line quickly drew me into this eclectic world. Uniquely written, with depth and heart, FOR A REASON is one of the most surprising and entertaining stories I've read this year. I would recommend this to readers who are looking for a story filled with both laughter and tears.
GP gives For A Reason 5 Stars
Love the story of Bull (Jon) and Red (Ian). What I like about it? The sincerity of these characters – Bull is a hero, a protector – he lives his life for others. Comes Ian who had a terrible life but regardless he is moving forward – they come together and it is just the perfect blend. They needed each other is every aspect of their beings. They strengthen each other – it was a beautiful journey. The story was deep and very intense – I am in love with it. I have read other MM they fascinate me – I feel voyeuristic but they are usually two alpha males – this story is way more realistic and I find myself liking it better because not every gay guy is an alpha they are just humans with all the colors of the human nature. I didn't read the first book but I am going back to read it because I really cared for this story – the author made me care.
Susan Allen Milkovich gives For A Reason 5 Stars
This is the second book in the Sizzling Miami Series and it was just as hot and amazing as the first book. This is the amazing, emotional, heartbreaking story of Ian. The relationship between Ian and Bull was incredibly written. The understanding that Bull had for Ian and the way he needed to be treated was very interesting to see. The characters were magnificently written and the story was well thought out and a lot of attention was given to detail. The story was wonderful and didn't feel rushed. I loved the relationship between all the families, those by blood and those by choice. If your looking for a terrifically written story with a lot of love, hot sex scenes, great friendship and family dynamics this is the book for you.